Reputable Online Casino Licences For Canadian Players
In Canada, the legality of gambling, including online gambling, varies from province to province. Five of Canada's provinces have made it lawful for anyone to participate in internet gaming. However, what you have access to locally may be as limited as a charity's temporary online bingo, and the Kahnawake Gaming Commission licenses internet casinos that accept players from across Canada.
There is a legal loophole that allows First Nations reserves to govern for themselves (including games of chance and internet gambling), which allows Canadians to play online even from provinces and territories where online gambling has not yet been legalised.
Aside from the Kahnawake casinos, most provinces don't provide much in the way of internet gambling (online gambling is technically illegal on a federal level unless legalised on a provincial level).
Players who gamble on foreign online gambling websites are not prosecuted, but it is legally unlawful for a corporation that is not licensed in one of the provinces to provide gambling services to Canadians (you can find a list of online gambling websites, which accept players from Canada below, many of them are either Kahnawake licensed, or have a partnership with a Kahnawake licensed company).
Possession of a gaming license ensures the following:
Games are fair, RTP and RNG are reputable and approved, and winnings are promptly paid out. The online casino is legitimately operating its company.
There are a variety of consequences for operators who aren't registered and in compliance with at least one jurisdiction or country.
The alphanumeric number displayed at the bottom of an online casino's page, which accompanies a casino license, is exclusive to the operator. If the operator does not provide a link, you can look up the code online to see if it is a real one. It is usually immediately linked to the license itself, which you can freely peruse.
An Example of a Casino Licence
The Gaming Authority will establish a dedicated webpage where players can check up information about an online casino's license.
Varied authorities will issue licenses with different designs, but the following details can be seen on all of them:
What is the operator's name?
The location of the office (be it the legal one or its headquarters)
The operator's email address
The current state of the license
Number of a license
Type of license and class of license
Approved categories of games and service suppliers
Alternative Dispute Resolution (ADR) that has been approved (ADRs)
The website of the company in question (s)
The majority of licenses are preceded by a relevant website before showing any additional part of the webpage address. Check to be sure the URL you're looking at is valid.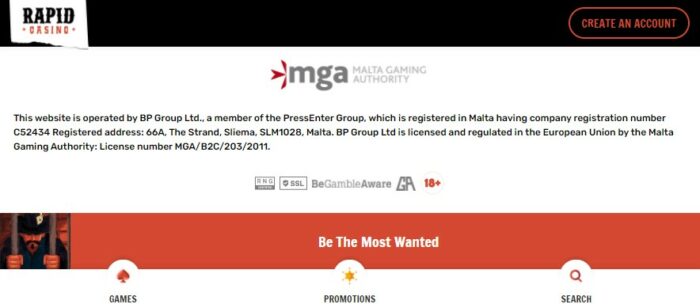 What Players Need to Know About Gambling In Canada
Because of Canada's political structure, there are a lot of discrepancies. A total of 10 provinces and three sparsely populated territories make up Canada.
The provinces include:
Alberta
British Columbia
Manitoba
New Brunswick
Newfoundland and Labrador
Nova Scotia
Ontario
Prince Edward Island
Quebec
Saskatchewan (Northwest Territories, Nunavut and Yukon).
Except for horse racing betting, gambling policy has traditionally been governed by provincial governments, and there is no unified federal level of gaming regulation.
FAQ
Frequently asked questions about online Canada casino licences
A casino license is what?
If a casino passes certain security and quality standards, the gambling authority will award it a license. Licensing gives internet casinos the go-ahead to run their business lawfully. Another benefit is that it shows players that the casino is a safe location to wager.
What is the ideal licensing for an online casino?
If a trustworthy, respectable, and lawful Authority issues you an online gaming license, we support it.
If you're looking for a trustworthy online casino, how can you tell?
However, this isn't always the case with licenses, which are typically found at the bottom of a website's page. There should be a mention of their headquarters and any gambling licenses they may possess at the bottom of the page, along with an insignia for the relevant authorities if you look really closely.
Can I check a gaming license's authenticity in any way?
If you click on the licensing link on the online casino's page, you should be taken to a special page. Look for the logo of the Authority, the details of the supplier, the licensed games, and the approval status on the license you're considering. Make sure the domain name of the Authority appears at the beginning of the website address.
A casino licence costs how much?
The cost varies greatly depending on where you live and what services or games you want to use.
How long does a licence for an online casino have to be valid?
State-by-state variations exist here as well.
Do different jurisdictions have different laws?
A variety of licences and permissions are necessary depending on the jurisdiction and municipal authority classifying the gaming establishment.
Is it lawful for a person under the age of 18 in Canada to gamble?
There is an age restriction of 18 years old for playing in an online casino.
A Flutter On The Ponies? It Depends Which Province You're In
Even though horse racing betting is lawful in every province except Quebec, the Criminal Code of Canada considers all other kinds of gambling (apart from online gambling) to be prohibited on the federal level. Video game firms supplying so-called "loot boxes" are currently being sued for this reason, and you can read about it in the "Other" section below.
Each province has its own set of laws and regulatory body, with the exception of pari-mutuel horse racing betting, which is regulated at the federal level by the Canadian Pari-Mutuel Agency (as previously mentioned, only brick-and-mortar betting is regulated at the federal level). This system is straightforward to understand. Provinces have pushed to regulate online gambling since it became available in Canada. The following forms of online gambling are now permitted in some provinces:
British Columbia, Quebec, Ontario, and Manitoba are all provinces that fall under the jurisdiction of the province of Alberta.
State-controlled and operated online gambling is legal in these provinces. Online gambling is still prohibited in all other states and provinces. Online gaming licenses cannot be obtained by private companies.
Even in provinces where gambling is barely legal, you'll find casinos on First Nations reserves (and sometimes online casinos as well, details below, at the "First Nations gambling" section). This simple and straightforward system has been complicated by the various Native American tribes who have decided to get involved in the gambling business.
How Gambling Operations Work in Canada
Operators of legalised gambling are frequently limited to operating in a single province or area. Only if there is an interprovincial agreement in place may a licensed operator supply services to residents in other provinces (which is getting more and more common nowadays, the big state-owned lottery companies, e.g.: Western Canada Lottery Corporation and the Atlantic Lottery Corporation are present in more and more provinces).
Canadians cannot lawfully place bets on offshore internet gambling organisations' websites, though. Players that play at foreign online casinos are not prosecuted, and in fact, only a small number of firms are as well (since they are not subject to Canadian law).
However, in 1999, a landmark case involving a Canadian law enforcement agency prosecuting an online gambling corporation set the standard for how such cases should be handled going forward. Even though they were operating in the Caribbean under a gaming license, Starnet Communications had offices in Vancouver and had servers placed someplace in the Caribbean. It was determined that Starnet had a strong enough connection to Canada to warrant criminal prosecution under the country's criminal code.
Quick Summary
Here's a quick rundown of where things stand for Canadian online gaming in 2021: Foreign, unauthorised gaming websites do not prosecute their players. Also, operators are frequently left alone and not subjected to criminal charges.
It is possible and has been done to punish foreign online gambling operators who are physically situated in Canada but do not have a Canadian gambling license (players were also not prosecuted in these cases as well). It's not illegal to allow access to unlicensed offshore online gambling sites, so they are not restricted.
For instance, the province of Quebec attempted to compel internet service providers (ISPS) to prohibit illegal online gambling portals. The Quebec Superior Court, on the other hand, deemed it unconstitutional in 2018. Since then, no one has dared to do it.